Campfires & Cocktails – August 25, 2017
August 25th was a beautiful, magical evening for participants at our annual Campfires & Cocktails fundraiser presented by Wapiyapi and Kirella Homes.  Following an emotional story from a family about the benefit of Camp Wapiyapi, a Wapiyapi founder Dr. Bruce Evans shared an inspiring message about how we've changed since our formation in 1998 and enlists our ongoing support to help ensure families can benefit from the special healing that is Wapiyapi for another 20 years.
Wapiyapi is grateful for an outpouring of support from its event sponsors, the merchants who donated to the auctions, and every friend who bought a ticket or auction item, hosted a table, and/or donated.  SAVE THE DATE for Friday, September 21, 2018 when we raise our glasses at Campfires again for s'more fun, fundraising for Camp Wapiyapi!
Thank You To Our 2017 Sponsors
The Camp Adventure Sponsors
Kirella Homes, Inc.
Drs. Bruce Evans & Kati Watts

Camp Companion Sponsors
Debra Perry & Jeff Baldwin Family
Terri & Bob Birdsong
Center for Cancer & Blood Disorders Children's Hospital Colorado
Brandon Griffin – Realtor/Investor/Camp Wapiyapi "Lifer"
Chris Watts, Sonja Knight and Family 
Campfire Sponsors
Darla & Karl Dakin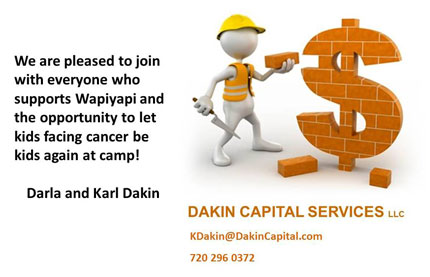 Sue Golden & Jim Bodenhamer
Hahn Fitness
Dr. Meg Macy
The Wojcik Family 
Cabin Sponsors
Artistic Design Store
Linda Campbell, Moving Mountains HEALS
The Joan & Ron Collins Family Foundation
Campfires & Cocktails is a fundraiser for Wapiyapi, a Colorado 501(c)(3) non-profit organization that serves families facing childhood cancer with a special kind of healing outside of the hospital. Our free summer camps provide a respite from the daily challenges of childhood cancer and an additional circle from which families may draw the strength for continued healing. All proceeds from the event will help send lots s'more patients and their siblings to camp!
Want to see the entire gallery? Click here.