Camp Wapiyapi is a kid's paradise.

Located in Woodland Park, Colorado, Camp Wapiyapi will be held in June 2018 at Quaker Ridge Camp and Conference Center. The camp spans 440 total acres of the beautiful Pike National Forest with breathtaking views of Pikes Peak. Outdoor adventures include the ever-popular zip line, a high ropes course, low ropes, archery, horseback riding, an outdoor heated pool, and more.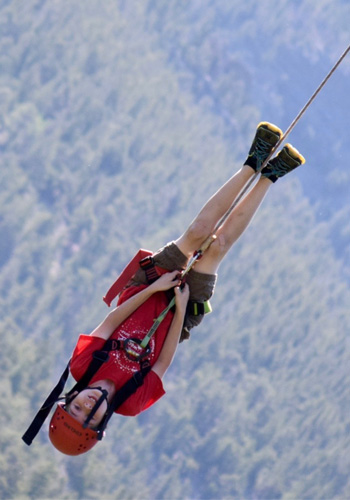 It is a kid's paradise.
The kids need to know they are not alone. They need to find out that they are cherished just as they are. And they need to have fun! Who doesn't feel better after having fun?
Nearly 300 children are diagnosed with cancer in Colorado each year.
Wapiyapi is a Lakota Sioux word meaning health and healing.
Siblings of children with cancer don't get to spend much time enjoying being a kid due to things like doctor's appointments.
Summer camp is a special time for kids. They get to learn independence, develop leadership skills and create lasting friendships. Kids dealing with cancer don't often get to experience camp, but at Camp Wapiyapi they can. They get to have all the amazing experiences kids who haven't faced cancer get to have while doing it in a safe, fun and supportive environment.
Campers say it's the "best week of the year" as they enjoy outdoor adventures, team challenges, a talent show, an all-camp dance, and simply being with others who understand.
For hundreds of families facing childhood cancer, Camp Wapiyapi gives them hope. We offer parents a rare chance to leave their child in the care of others and feel secure that not only will their child's medical needs be met, but they will also enjoy the typical childhood experience of summer camp.
Camp Wapiyapi has a unique one-on-one camper to counselor (companion) ratio with many companions being cancer survivors themselves. Also unique is that the program serves not only the child with the diagnosis, but also the child's brothers and sisters.
"This was the first time I felt equal in my family's cancer journey," a sibling shares. "It wasn't just about my sister's cancer. It was about me too."
The campers and their companions divide up into color teams for a week of fun. The week is completely focused on the kids and making sure they feel carefree again.
Wapiyapi is a Lakota Sioux word that means healing. As these Native Americans realized, physical health is dependent on the wellness of the whole person and an understanding of how each of us fits into our community and the natural environment. Thus, many of our activities focus on the beauty and wonder of the Colorado landscape, offering children the ultimate playground.
Activities
Kids enjoy a variety of typical camp activities, but we also have miniature golf and basketball. If the weather gets ugly, they can play ping pong or pool inside. The Craft Shack is one of the most popular activities and it bustles with activity every day. In the shack, kids have a variety of options to express themselves artistically.
Each year a few custom activities are integrated into the camper's schedule which reflect the talent and expertise of our amazing volunteers. In the past, the kids were taught how to pan for gold, shown martial arts moves, and taught by a film maker to create their own movie. These activities provide something special and offer a bit of the unexpected.
Activities at Camp Wapiyapi:
Archery
Talent Show
Arts and Crafts
Swimming
Giant Slide
Horseback Riding
Disco
Ropes Course
Singing
Zipline
Questions? Please email us at wapiyapi@wapiyapi.org.