(this is a demo site)
Bank Account Holder Name - This should be your name.
Your Bank Account Number - This is the number of your bank account.
Bank City - The City where your bank is located.
Bank Full Name - The full name of your bank.
(this is a demo site)
Send the check to the next Address:
Charitas
51 Sherbrooke W., Montreal, QC. Canada, H5Z 4T9.
(Please mention in the check for which cause you donate).
Host a fabulous event for a fabulous cause.


Hold a bake sale, host a cocktail party or organize a race. Anything you are passionate about can become an event to raise funds for Camp Wapiyapi! Help us by hosting your own fundraiser or by supporting a local event. Learn how to create your own online fundraising page, too.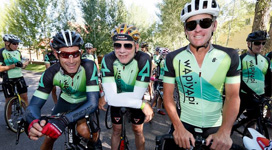 In 2010, former board member, Anna Hansen, wanted to organize a bike ride that would benefit Camp Wapiyapi. Cycling for Wapiyapi was a huge success and has become a a favorite summer event in Aspen. Lance Armstrong and George Hincapie participate in the ride every year. Anna's vision became a fabulous reality. Yours can too.
Here are some ideas to inspire you:
1. Have a Garage Sale – Try to get a bunch of people together to do this one. And advertise! Most neighbors have local websites, like NextDoor.com, that you use to notify neighbors.

2. Hold a Bake Sale – Multiple sites say you should consider specializing in one particular baked good like brownies. Then make a bunch of different kinds of brownies. Also give it a cute name so people know that they are helping Wapiyapi when they buy that brownie. It is also important to find a place with awesome foot traffic. Again, advertise anywhere you can.

3. Host a Haunted House – This is a really interesting idea. Some party stores or parents might donate the items of the haunted house. Get friends to dress up ghosts or goblins. Charge a small entrance fee to go through the haunted house.
Have an idea? We are here to support you. Take a look at our Third Party Fundraising Agreement and let us know if you're ready to roll. We want to hear from you.